I am surprised that last picture turned out. I took that with my phone! I also took the next couple of pictures with my phone.
Jaeden's yellow shirt really attracted the butterflies at the butterfly garden at the zoo.
The butterflies weren't the only ones loving Jaeden that day. When we were leaving she held a door open for us and a man and his little curly blond haired son, who was maybe 2, came up behind us and the little boy just reached over and gave her the biggest hug! Jaeden just stood there giggling and let him. It was super cute :)
While the boys were getting ready for a week long hiking trip, Joy got her stuff together in hopes of tagging along. Love the outfit she put together.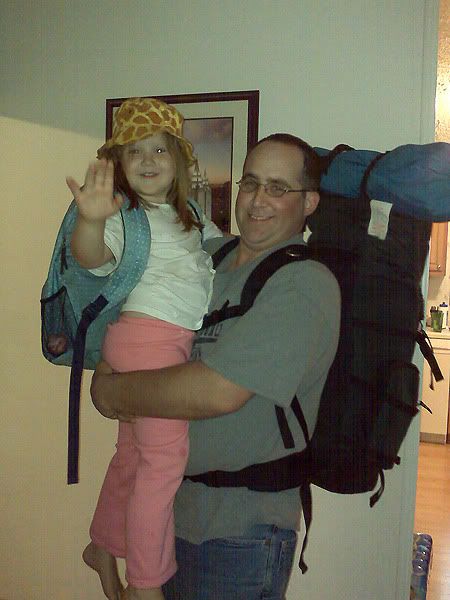 The kids and I are getting ready for a trip out to Utah as soon as Joel and Jake get back. I could have left earlier, but I really wanted Jake to come with too, so we've been waiting for his return. Jaeden will turn 7 while we are out there, so we also have to have some family over and birthday cake before we take off.
All week long the kids have been asking me questions about their family in Utah. We were out there in '05 and '07, we missed last year because of Joel being laid off. Only Jake, Josh and Jaeden remember much. So Joy's been the most full of questions. They keep asking about the house I grew up in, because they keep forgetting that their grandparents don't live there anymore. I will take them by to see it. I'd love to see it myself. I miss that house, and often dream about living there still. It was a great house and neighborhood for a kid to grow up in.
If everything goes as planned we will be meeting up with my good friend Michelle, from Idaho, at Lagoon for a day of fun in the sun! I am so excited to finally be able to meet her face to face! I wanted to meet her last time, but Joel was worn out from our trip to Utah and not in the mood for socializing anymore. Booooo. But this time I get to call the shots :)
Also the kids are way excited to visit another ward. They are in awe that church is the same here and there. They were asking me questions like, "Will they sing the same songs we do here?", "Will we have the same lessons?", "Do they believe in Jesus and Joseph Smith too?". It's so cute to see the stuff they worry about. But now they are excited to see it be true.